Murcia Cathedral: A Baroque Masterpiece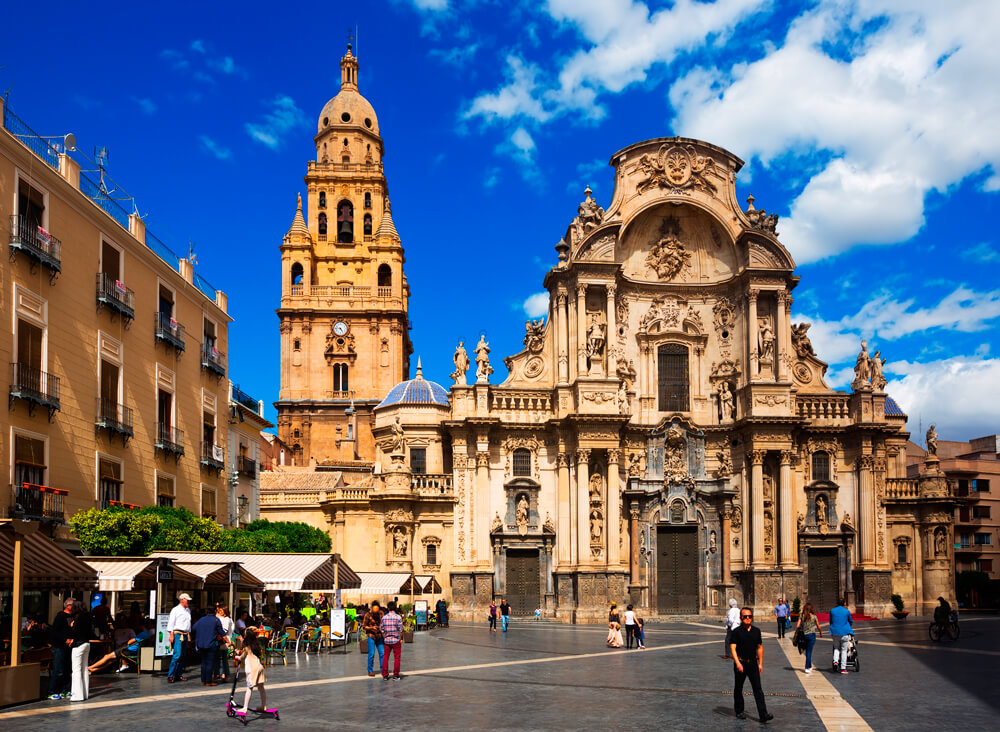 Mar 15, 2019 Sin comentarios
It took 400-years, stretching between the 14th to 18th centuries, to finally complete this intricate, imposing edifice. Gazing up at the magnificent Baroque architecture as you approach the Murcia Cathedral, you can understand why it is the biggest visitor attraction in the city. Also known as the Cathedral of St. Mary, the building is far more than just a shell. Behind the external façade, other grandiose architectural styles have been used over the years, to complete this spectacular structure.
The beginning of a masterpiece
The original exterior of the Murcia Cathedral was rebuilt between 1394 and 1465, on the site of what was originally a mosque. As the years went by, parts of the building were refurbished, and extras such as the bell tower, the Vélez Chapel, and Junterón Chapel were added. Although the interior is primarily Gothic, the cathedral also contains sections of Neoclassical and Renaissance architecture.
Situated in the Cardenal Belluga Square, everything about the building, inside and out, is awe-inspiring. The magnificent bell-tower, which replaced the mosque's minaret, stands over 90 metres high, and can be seen from across the city. Its 24 bells are each individually named, and peel out daily to call the Catholic faithful to prayer. Inside the cathedral, the various architectural styles are more easily identified. Enjoy a tour of its three naves, its twenty-three chapels and mosaic flooring. Stroll through the cloisters, take in the Junterones Chapel, and visit the cathedral museum, its works of art, and a section of the foundations of the original mosque.
More than just a monument
Murcia Cathedral is far more than just a place of worship. Spain is well-known for its large number of national and local religious holidays, and Murcia and its cathedral play their part in the celebrations. The cathedral is bathed with a magnificent light extravaganza during Christmas week. Processions and festivals are held throughout the year, and music and concerts fill the cathedral's square with sound during the summer months, promoting the area as a main hub for Murcia's religious and social calendar.
On your next visit to Murcia city take time out and head to Cardenal Belluga Square. The cathedral's doors are open during the morning, again during early evening, and on Sunday morning. Take your time, view the cathedral from all it's different approaches, and don't forget to climb the bell-tower to enjoy the spectacular views across the city.
Compartir: